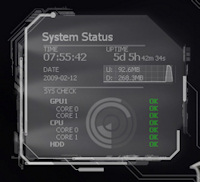 Hud Menu Interface Toolbox -
The Hud Menu Interface Toolbox features various sounds that can be used for various menus, Game HUD's, and also small object interface interactions. It is a great tool for building, and creating response sounds to player interations, or for any type setting that may need some additional sounds for a character or actor to make when interacting with something.
Includes
- Total of almost 700 sounds.
- 156 HUD - 6 Folders
- 278 Interactions - 12 Folders
- 111 Menu-Error- 3 Folders
- 65 Menu-Hover - 3 Folders
- 58 Menu-Selection/Transistions- 2 Folders
Payment Details
- Hud Menu Interface Toolbox - All proceeds above $5 go to The National Federation of the Blind
Click Here to view spreadsheet on it's own page
Click Here to download all the samples in one zip.
Positive Feedback
- "I'll probably be using this on a couple of my projects. great stuff again Daniel"
- "Definitely needed some good sci-fi UI stuff. This library was very usful."
- "Just updated one of my projects with this stuff from the placeholders. Was a definite improvement."