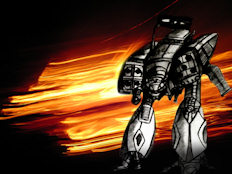 Heavy Armored Factory -
The heavy Armored Factory features sounds you would expect to hear from a massive mecha or walker styled Machine. The library was built around Metal, Tools, and heavy processing. Perfect for building your mech sfx needs, or adding to various types of games built around a futuristic setting.
Includes
- Total of almost 250 sounds.
- 14 Mech Attachments
- 55 Mech Foley
- 21 Mech Interface
- 42 Mech Weapons
- 4 MechFactory Construction
- 15 MechFactory Shutdowns
- 21 MechFactory Tools
- 38 MiscAbstract
- 18 Mech_PowerDowns
- Each File 24-bit 96kHz
Payment Details
- Heavy Armored Factory - All proceeds above $5 go to The Environmental Defense Fund
Click Here to view spreadsheet on it's own page
Click Here to download all the samples in one zip.
Positive Feedback
- "Been Looking for this, Just what I needed. :)"
- "Great stuff, really cool sounding too, This library has already been useful."
- "As a nerd, I approve this."
- "Been working on a space-based rts. I think i've layered this library into half the game. lol"